Turkish poet Nazım Hikmet is remembered on the 55th anniversary of his death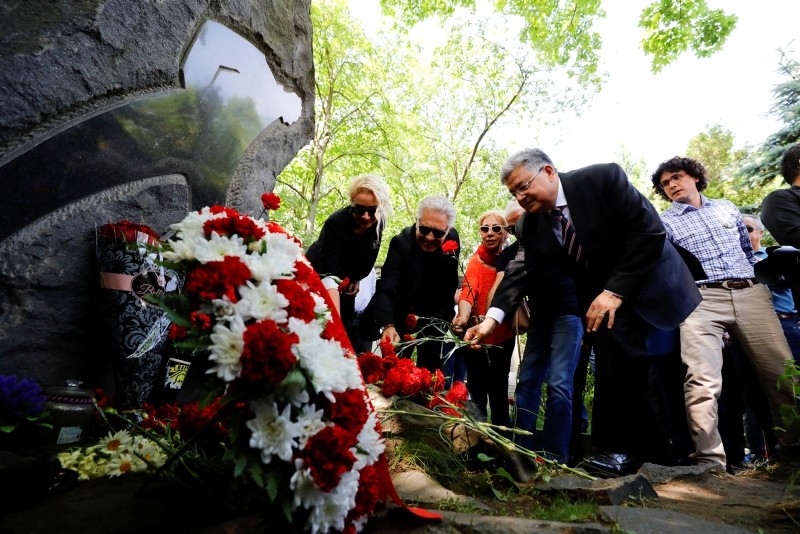 Turkish poet Nazım Hikmet was commemorated on Sunday in a ceremony on the occasion of his 55th death anniversary at the famous Moscow Novodevichy cemetery.
Hüseyin Diriöz, Turkish Ambassador to Russia, said in a speech that Hikmet is of value to both Turkey and Russia, and his messages for humanity in his work echoed not only in Turkey but in the whole world.
Turkish artists Zülfü Livaneli, Edip Akbayram, Genco Erkal, Sıla Gençoğlu and Hikmet's daughter-in-law Anna Stepanova were among the main Turkish and Russian guests at the ceremony.
Hikmet's poems were recited during the ceremony and the group then placed shamrocks on his grave.
Several other programs were also planned in Moscow to commemorate the "blue-eyed giant" of Turkish poetry.
Hikmet is considered one of the main pillars of modern Turkish literature. He gained worldwide fame for his anti-imperialist and anti-war stance, embodied in his famous poem "The Little Girl from Hiroshima", which describes a girl killed by the nuclear bomb that exploded in the Japanese city of Hiroshima during the Second World War.
Born in Thessaloniki, then part of the Ottoman Empire, Hikmet's father was a Turkish-Circassian government official, while his mother's family had two pashas of Polish and German origin. Hikmet graduated from the Ottoman Naval School in 1918 and briefly served as a naval officer until 1920. He then joined the nationalist government in Anatolia and served as a teacher, then traveled to Moscow on Batumi to study and discover the early years of the Russian Revolution. .
His first collection of poems was published in the USSR in 1924 and he returned to Turkey the same year. Because of his Communist views and publications, Hikmet was not on good terms with the one-party regime of the Republican People's Party (CHP). He was sentenced to 15 years in prison in 1924 because of his publications, as a result of which he fled to the USSR. But, he returned to the Republic of Turkey in 1928 after the promulgation of an amnesty law.
However, he was again sentenced to 28 years in 1938 and served 12 years until he was freed by amnesty in 1950 as his health deteriorated and many Turkish intellectuals and high profile figures like Pablo Picasso and Jean-Paul Sartre campaigned against his imprisonment.
Due to anti-Communist public sentiment and post-WWII government policies, fearing that he would be persecuted or taken into the military for compulsory service, Hikmet first escaped to Romania and then to USSR. His citizenship was revoked by the Democratic Party government in 1951. Until his death in 1963, Hikmet lived in the USSR and married his second wife Vera there. He also organized anti-war and anti-imperialism conferences and radio programs in various countries.
Hikmet's works and many other compositions and writings influenced by Hikmet were effectively banned in Turkey until the late 1990s, while a de jure ban on his works remained until 2013. The cabinet decision of his expatriation was revoked in 2009, after 58 years.